Karen Nedler Quinn
is another of the growing group of Corporate Expatriates. Karen's first novel, The Ivy Chronicles was published in January 2005. That was followed by three more,
Wife in the Fast Lane
,
Holly Would Dream
and
The Sister Diaries
. This July is the debut of Karen's first work of non-fiction,
Testing for Kindergarten
. I had the opportunity to sit down recently and ask Karen a few questions about her latest project as well as the process of Reinvention.
Sometimes we choose to reinvent and sometimes it chooses us. You've been reinventing for a while now. What was the defining moment that made you take this turn towards non fiction?
Testing for Kindergarten
was unfinished business. When my son Sam was three we discovered that his problems in school were not due to capability but to an ear problem. He could not hear properly. He did terribly on his IQ test and we were told he would never get into private school. Fortunately for us my mother had a PhD in Early Childhood Education and knew what to do. She was able to give me exercises to work with Sam every night. A year later he took the test again and got the highest score in the class!
That experience inspired me to co found
Smart City Kids
, a company dedicated to improving every child's chance of acceptance to the school of their choice. I left Smart City Kids and used my experience with Sam to write my first novel,
The Ivy Chronicles.
But always in the back of my mind I wanted to take what I had learned and make this information available to other parents. The resources I write about are more than just prepping for a test, they are about getting your child ready for Kindergarten.
Where did you get the idea for the board game for Testing for Kindergarten?
I had a desire to create a workbook to go with the book. However my publisher was not ready to commit to that so I came up with the idea of a board game. I wanted to make this a fun learning experience for kids. I took all the things Sam loved when I was working with him and made it into play. It's an
IQ Fun Park
complete with the beach, the farm, the toy store and space babies.
Is there an on line or video version?
I get that question alot and the answer is no. Part of what makes this work is the time a parent takes with their child plus you cannot assess IQ without hearing a child talk.
How has your work experience and education prepared you for this?
It actually inspired it. I tutored children at one time, although I do not recommend tutors. I think it puts too much stress on the child.
What has been the biggest surprise concerning your reinvention?
The biggest surprise is that I am still reinventing. Smart City Kids was the first phase which took me to The Ivy Chronicles. I thought being a novelist was it, but the reinvention just never stops.
What has come the easiest for you?
The gift of leaving Corporate America is that I get to pursue projects I am truly, passionately interested in. That's the easiest. This book was easy, because I was in my pleasure the whole time.
Do you have any regrets?
Only ones that have to do with buying New York real estate!
What do you love the most?
That every morning I do not have to take a subway or drive to an office. I waste no time in commuting and I don't have to get dressed up every day.
What do you miss the most?
A regular paycheck. That everything I do depends on me. I miss having people around to talk to although I do not miss the politics.
What are you most proud of?
That I turned myself into someone I never expected or thought I could be. I never thought my novels would be considered for movies. I surprise myself with all the cool things I get to do and discover all the things I never knew I could do. It's fun to recreate.
What advice would you give to others contemplating shaking up their lives?
If you have an idea, just sit down and do it. Even if you don't know how, don't think, just do the work. If you're still working full time and only have an hour a day, use it. Create a community of like minded people. Attitude is very important. You need to surround yourself with your cheerleaders.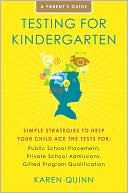 Testing for Kindergarten
is available today. The game version would be out next month. Karen invites parents of young children to come to her website and sign up to get a
free test prep Question
delivered to their email boxes every day and/or sign up to follow her new blog,
The Baby Ivy Chronicles
.
You can follow Karen on Twitter at
http://twitter.com/karenquinnnyc
.
Note: In the interest of full disclosure Karen Quinn and I are members of the same community of six cheerleaders. We check in on each other formally once every two weeks and never hesitate to reach out for an emergency 911. Karen's path inspires my own. I am very excited for her newest project to hit the marketplace!